Careful: this video link will crash your iPhone!
11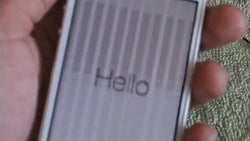 iPhones and their operating system — iOS — are usually considered to be quite stable and un-corruptable. Apple's closed off file system and other such restrictions may be annoying to the modders out there, but definitely do their job to cement the aforementioned notion. However, every once in a while, something threatening pops up — sometimes, it's malware hidden dormant inside apps in 3rd party app stores / sideloadable apps; other times, it's a bug within the operating system itself, which looks pretty random but manages to completely crash the iPhone. For example — last year, we had the text bug, which caused an iPhone to go haywire if it accepted
a specific string of characters in a text message
.
Now, there's another exploit making the rounds. It's a video link to website VK.com (careful, it can still be masked via a goo.gl or bit.ly shortener). When the user follows it, the video will, indeed, play — it's a short 3-second clip that doesn't seem to have any meaning. Minimise the video when you're done and you can continue using your phone for a few seconds. But then it will start slowing down, functions like the home button or on-screen buttons will stop responding, and, eventually, it crashes.
A hardware reset is proven to fix the issue. Not to be confused with Factory Reset, which wipes your phone, hard reset just means that you are using the hardware controls to force the iPhone to reboot. If you happen to receive this message and your phone freezes — press and hold the power and volume down buttons (could be power and home on devices older than the
iPhone 7
).
The videos below demonstrate the glitch and show that it will crash all iPhones, from the iPhone 7 with iOS 10 down to the
iPhone 4
on iOS 5. We don't feel comfortable with posting the link in this article and we wouldn't suggest using it to prank people, as whether it has any permanent effect on iPhones is yet unknown.