Captain America: The Winter Soldier now available on Android
7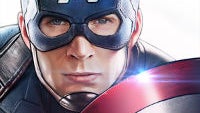 There's a new Captain America movie on the way, which means we also get a new movie tie-in game. Last time, it was an side-scrolling auto-runner style game, but The Winter Soldier is taking the path of an action beat 'em up with a ton of in-app purchases. Surprisingly, Gameloft hasn't pulled off a simultaneous release for the game. but it is available now for Android.
The game offers a combination of beat 'em up (where you get to kick the crap out of bad guys with Cap) and strategy (where you command sidekick soldiers.) Oddly, it also offers two different ways to control the game, either of which can be used at any time. There is an on-screen virtual joystick and buttons, or you can simply use various taps and swipes. Either way works well enough, but using the tap & swipe method makes it feel like you don't have that much control over what is happening (which can then lead to the game not being all that much fun.)
In terms of performance, it should be noted that the game will force you to play in landscape mode even on a 10-inch tablet, and we did have some framerate and lag issues on a Nexus 10. You get the first two levels for free, then have to pay $2.99 to unlock the full game, but on top of that is an in-app payment system to help you revive your easily killed sidekicks or get various power-ups. Since it's a Gameloft game, this system will undoubtedly get quite annoying.
There is also asynchronous multiplayer, if you're into that sort of thing. Frankly, the setup alone turned us away. The story is presented in slightly blurry (on a large tablet) still cuts and scrolling text. The game itself looks nice enough, but it is cut up into short stages with the annoyingly ubiquitous mobile game 3-star system. The gameplay itself is essentially just button mashing. And, the in-app payment system seems unnecessary. If the game were more free-flowing and cost $3.99 off the top with no in-app payments, it would instantly be quite a bit more fun.
The game is expected out for iOS and Windows Phone, but hasn't shown up in either store just yet.