Canonical to announce Ubuntu tablet OS tomorrow
3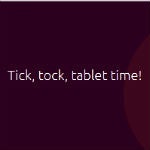 We're only a few days away from the
preview image of Ubuntu for phones
going live, and a new countdown timer has shown up on the Canonical website. This one isn't as
cryptic as the last
(which tricked us because we didn't expect the announcement a year before the full release), exclaiming clearly "Tick, tock, tablet time!" So, it looks like Canonical is about to show off tomorrow the work done to make Ubuntu tablet-ready.
Canonical and all of the developers contributing to Ubuntu have been working on
making Ubuntu tablet-ready
since October. The early work has been done with the Nexus 7 as the reference device, and has focused on optimizing the OS to run on mobile processors, to be more efficient with memory, and more power efficient as well. A lot of these improvements have already found their way into Ubuntu 13.04, which is due in 2 months. The plan is to have Ubuntu be an
all-in-one OS
from phones to tablets to desktop in time for Ubuntu 14.04, due in April 2014.
So, it looks like we'll get to see the plans for Ubuntu on tablets tomorrow at 12PM EST. We'll bring you all the info as it comes in!