Can you teach your old dog new tricks on an Apple iPad?
3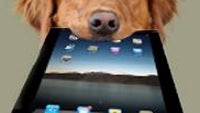 Would you take the screen of your Apple iPad and slather
peanut butter
all over it? You might if you were taking dog training classes from Anna Jane Grossman. Last year, 25 of her students signed up for private lessons to teach their dogs how to use Apple's tablet. The peanut butter trick is one way to get dogs to use their noses to activate specific apps. That is one of the techniques that Grossman plans on teaching during a 90 minute clinic she is holding in addition to the private lessons.
We need to get one thing straight though. As Grossman points out, you are not going to be able to tell Rover to make your bank deposit using the iPad. While the trainer points out that dogs don't necessarily do "useful things" on the iPad, she is quick to point out that neither does she.
While some agree that teaching a pet how to use a tablet can entertain them, help them develop better motor and social skills, others say that it doesn't give your pet the chance to wind down and relax after a session with the device. And yes, there are apps designed for use by the family pet. One, called
Game for Cats
, has felines jumping after moving laser dots. There is a free version and a $1.99 paid version of the game which together have been downloaded over
1 million times
. And while the apps for pets are designed for mostly cats and dogs, other animals like penguins, tigers and frogs have enjoyed playing some of them.
With more cats beginning to develop a fondness for the Apple iPad, cat food manufacturer Friskies got into the fray by developing its own apps for the slab. The only problem is that once your pet starts using your iPad constantly, they will think that it is their device and might start bothering you when you want to use it.
source:
WSJ