Can those texting while driving be shamed into stopping?
15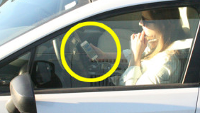 Did you know that right this second, 660,000 drivers in the U.S. are using their cell phones from behind the wheel? Each of these drivers spend 4.6 seconds with their eyes off the road, while sending or receiving a text message. That is the equivalent of driving blindly for the length of a football field at 55mph. And most crashes give you only 3 seconds to react. Overall, 80% of automobile crashes are due to driver inattention.
The source of this data is a website called TWITspotting.com that is dedicated to putting up pictures of drivers texting while behind the wheel. The site's founder, Brian Singer, has taken some of the pictures that he has collected and put them up on giant billboards in the San Francisco area. Singer quickly realized that the number of people breaking the law was high. "
For every nose picker, there's 20 texters. Unofficial estimation by me
," Singer said. And yes, texting while driving is a crime in the city, with a ticket carrying a minimum fine of $76.
"My hope is that it will freak some people out and make them think twice before picking up the phone while driving. My greater hope is that it inspires others to start taking photos, too. If enough people started doing this, it could have a dramatic affect on people's behavior."
-Brian Singer, TWITSpotting.com
TWIT is an acronym for Texting while in traffic, and you can send in your own photos to the site via email or post them on Instagram using the hashtag #TWIT. Currently, there are 11 billboards showing blown-up pictures of TWITs. Singer has to pay for all of this out of pocket since other organizations will not help defray the costs. And while some might consider what Singer is doing to be an invasion of privacy, the graphic designer says that drivers on the road don't have an expectation of privacy.
source:
TWITSpotting.com
via
CNN