Can the Galaxy S5 survive under water as long as the IP58-certified Xperia Z2? (video)
39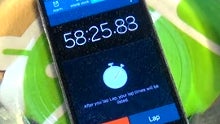 The
Galaxy S5
sports an IP67 certification, while Samsung humbly calls the phone "water-resistant". It not only survives splashes of water jetting on it from all sides, but can also be immersed fully in up to three feet of the liquid, and stay there for half an hour, which is the definition of its IP67 tag. We've already seen the Samsung flagship
survive a washing machine cycle
, and also stay submerged in water for an hour, twice longer than its waterproof certification tag suggests.
Can it survive more than that, though? The
Xperia Z2
has an IP58 certification, which means that it can stay in five feet of water for more than an hour without damage to its internals. The Z2, however, has a unibody design with a sealed battery compartment, while the S5 has what seems like a flimsy battery cover only, that can be removed at will. That's precisely the question that gets answered with the Galaxy S5 water test in the video below. It seems that everything is working fine afterwards, even the speaker, which usually needs some time to dry out and perform as intended after such an extreme water test.