Can the Apple iPhone 5C be keyed?
41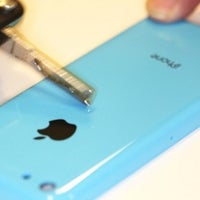 A published report out of Taiwan on Wednesday included a video showing one of those alleged
Apple iPhone 5C
shells undergoing a damage test. In one test, the casing was placed into a bag containing a key and some coins. The phone, keys and bag were shaken up to see how the casing holds up after being in a pants pocket containing the same materials.
According to the report, the plastic shell gets passing marks and even scored a high "8H" on the surface hardness test. The dimensions of the Apple iPhone 5C casing used in the test were 124.55 mm tall x 59.13 mm wide x 8.98mm thick. The Apple iPhone 5 measures 7.6mm thick in comparison. But that can be blamed on the difference between using a premium aluminum material for the full-priced variant of the phone versus using a cheaper (albeit durable) plastic for the budget model.
Another picture in the report showed a blue shell for the
Apple iPhone 5S
. While the cover included the pill or lozenge shaped dual LED flash, it also appeared to have some sort of film over the part which gave it a grainy look.
Based on the video, it looks like the plastic Apple iPhone 5C will be durable and won't be easy to scratch up. We still have about three weeks left until the introduction of the Apple iPhone 5S and the Apple iPhone 5C, so we should expect more information to leak as we get closer to the big day. We wish that someone would drop a prototype of either model (we're not picky) in a bar somewhere in Silicon Valley so we can get a look at the finished product. But that kind of thing never happens, right?
source:
AppleDaily
(translated) via
MacRumors
,
CNET