Callistics is a great Android app for call, messaging, and data overviews & statistics
6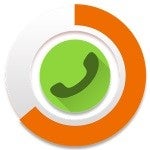 If you are the rare breed that actually uses their smartphone to call people once in a while, we'd like to take a moment to recommend a great app that gives out an overview of your call times, data usage, and messaging activity. It's called Callistics, and we like it because it looks and feels like it naturally belongs in Android.
Styled in Material Design, Callistics augments the typical logging functionality by breaking the information down in periods. For example, there's a specific day chart with the number of incoming and outgoing calls and messages for the day. Or you can get per-contact or per-app metrics. You can also tag numbers to whom you make calls and send messages for free, so they won't be included in your statistics.
Callistics lets you order contacts by number of call minutes or messages, or list applications ordered by data usage. You can also get notifications about the billing period, or set up alarms for data usage. Really, whatever you can think about in terms of metrics, Callistics can probably handle it.
Callistics works with all mobile carriers around the world, and is free to use.
| | |
| --- | --- |
| Developer: Mobilesoft | Download: Android |
| Category: Statistics | Price: Free (with in-app purchases) |