CTX to embed a projection keyboard in your phone, its $99 keychain gear sells out at Brookstone
2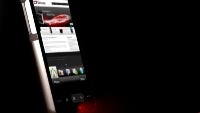 Look, another portable laser keyboard for a
Fox intern to confuse with an internal part of the next iPhone
! Brookstone has been exclusively selling another virtual keyboard that uses laser projection for the buttons, made by CTX Technologies.
Brookstone has now sold out of the preorders for the tiny laser Virtual Keyboard, and is not accepting more, with the first orders for those who bought one expected to ship next month.
CTX Technologies is not stopping here, though, although the reviews of such keyboards are usually negative, as there is no tactile feedback, and the lasers often get confused, unless you are pecking with just one finger.
The company wants to incorporate the projection tech in a chip and
embed it into future smartphones and tablets
. That would be swell indeed, especially if they sort out the lasers sensitivity issue when so many fingers are involved at once.