Fox News makes a "fair and balanced" iPhone 5 features reporting - laser keyboard and holograms
26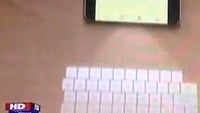 FOX News's New York city affiliate channel managed to do a giant misrepresentation of the iPhone 5 features while reporting on the
waiting lines in front of Apple's 5th Avenue store in NYC
before the launch on September 21.
It ran that old concept video, where the iPhone is represented as "
starting at two-hundred bucks, the iPhone 5 is sleeker, has a laser keyboard, holographic images, and other cool new features.
" Not only that, but the reporter was stubbornly repeating the lines in the video as well.
Well, it seems that the late night news at Fox have been given to interns to practice their "fair and balanced" approach to reporting.