CLIQ successor is to be called the Motorola 'Begonia' for T-Mobile & offers Wi-Fi calling?
0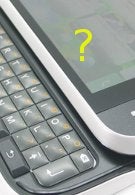 Being the very first Android powered device from Motorola to grace T-Mobile's lineup, it was only going to be time before we see some kind of successor to the aging Motorola CLIQ. Now there are some new pieces of information that shed light on an upcoming successor device going by the codename of the Motorola "Begonia" which appears to have a few interesting items in tow with it.
For starters, it'll be an Android 2.2 smartphone with MOTOBLUR running on it – so love it or hate it, the thing is going to stick around more. In addition, it's reported to have some sort of "interesting" keyboard design which is so far described as "one solid piece" with no gaps in between buttons. Now there are a lot of things that come into mind, but if there's any innovation to be seen in this space, it wouldn't surprise anyone to see them come out with a completely touch-sensitive keyboard with Swype support on it. Although it's still unknown as to what is this "interesting" keyboard design is all about, it doesn't hurt to speculate. Additionally, it'll support 3G mobile hotspot and Wi-Fi calling which we've been hearing about of late.
As for a rumored launch, this thing is looking to make waves probably on November 1st – but there is yet to be any mention about its price.
Motorola CLIQ Specifications
|
Review
source:
Engadget