CEO Thorsten Heins says RIM may yet sell the hardware division
16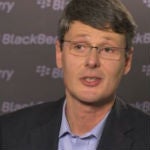 We've heard the rumors a
number of times
(especially tied to Samsung), but we've never heard the words come straight from RIM, especially not from CEO Thorsten Heins, but it seems like even those inside RIM may be looking to hedge the BlackBerry 10 bets. Thorsten Heins has said that RIM may yet sell the hardware division and license the BlackBerry software.
Heins made the comment during an interview in his native Germany with
Die Welt
, where he made it known that the company is looking into a few strategies going forward, including the possibilities of selling the hardware division and licensing the BlackBerry software. Heins said (via Google Translate):
There are several options, including the sale of the hardware production is as much as licensing our software. But there is no reason for us to decide in hectic. It is important first of all, BlackBerry 10 successfully putting them on the market. Then we shall see.
Heins said that the final decision is dependent on the results of a company-wide evaluation which is currently in progress. Somehow, we get the feeling that the "company-wide evaluation" is also dependent on how well the BlackBerry 10 launches.