Busboy's Apple iPad burnt to a crisp thanks to his mom, customer helps finance a new one
56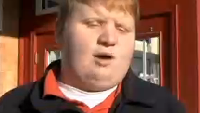 Here is a nice, warm and fuzzy story for the holidays. 16 year-old Clay Lawson lives in Nelson County, Virginia and works as a busboy at the Cavalier Diner in Charlottesville. One of his most prized possessions was an Apple iPad. We say "was" because his iOS flavored slate came to a tragic end. How? Well, Lawson had placed his iPad on top of some cardboard boxes which his mom was tossing into a fire pit at home. Result? Fried iPad.
Lawson couldn't simply replace his iPad. How could he on a busboy's wages? He had saved up for some time to buy the now burnt beyond recognition tablet, which he hoped would help him with his school homework. Upset at the loss of his iPad, which he had only owned for days, Lawson still had to take his next shift at the diner. And that is where some of the holiday magic starts. Donna Drumheller, a server at the diner, is a friend of the Lawson family and started to spread around his sad tale to co-workers.
A customer overheard Drumheller talking about Lawson and after asking some questions about him, he left. But he returned an hour later with a $360 Best Buy gift card earmarked for the busboy. The good news is that the busboy has already replaced his iPad with a new one, thanks to the benevolent diner customer who wants to remain anonymous.
"It's really amazing. I am still in shock that someone went out of their way to do this for complete stranger," said Lawson. "I'm going to try to be a better person just from learning from this experience."
-Clay Lawson, busboy and iPad owner
So go ahead and pass this story on and tell it to those cynical sorts who don't believe in holiday magic. Let them know that magic still exists.
source:
WVIR
via
CNET