Bug in iOS 9.3 lets you make folder icons circular – here's how to take advantage of it
33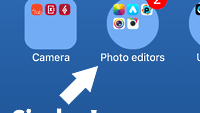 Bugs in iOS aren't usually very fun. In fact, they can mess up your beloved handset or tablet pretty bad if Apple's developers have had a particularly rough patch at work. Strange as it may seem, though, happy accidents do happen as well! For all the system errors that could crash your iPhone or iPad when you needed it the most, there's one glitch that does something completely zany and unexpected – like make all the app folders you created appear as circles, instead of rounded rectangles!
The bugger was found in iOS 9.3 and 9.3.1 and occurs when you choose to do something most users will probably never think of in their lives – which is set up a 3x3 pixel wallpaper. That's literally it – no additional modding is required to round out your folders.
Check out the slideshow for the instructions and the hearty selection of colorful 3x3 pixel wallpapers that you can download on your iOS device and make it do the magic trick. Just keep in mind that rounded folders won't work if you have turned on the "Reduce translucency" setting inside the Accessibility settings menu.
Also read: