Bruce Willis might sue Apple: his girls can't inherit his iTunes collection
94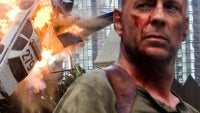 Hollywood superstar Bruce Willis, the one you've seen in Die Hard and Pulp Fiction, might just launch his own legal war against Apple and its iTunes store. Turns out, Willis has a massive digital music collection that he wants his girls to inherit, just as that would happen if he had purchased physical copies of the music, but Apple's current iTunes terms flabbergastingly don't allow for that.
The reason is somewhat absurd - in reality, Apple considers you're borrowing the music under iTunes license and not own them. This shocking revelation seems to have angered Bruce Willis.
Basically, this means that all of the music you buy on iTunes is worthless once you pass away.
The 57-year-old actor is said to be considering setting up a trust that would allow his daughters to use his music collection.
And no, this obviously isn't about money - we're pretty sure Willis and his daughters can afford buying all the tracks on iTunes. The actor is defending a right that might have been taken from unaware users to own the music they buy. Despite his muscles, it seems the action hero would need some help in breaking Apple's corporate rules about that, don't you think? And did you know about this? What's your reaction - let us know below.
source:
The Register