Brother, sister, father, and Reggie Watts, they know how to Note: Samsung's new Galaxy Note 4 ads
48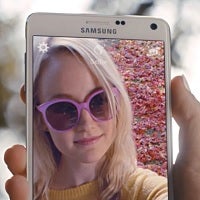 Whether you can relate to a grumpy brother, self-conscious sister, busy father, or the imaginative sound loops of comedian and voice talent, Reggie Watts, the
Samsung Galaxy Note 4
can cater to all of them.
The
Galaxy Note 4
is arguably the best device Samsung has put out this year, and there is a lot to like about it. The camera is superb, the display is riveting, and the S-Pen is remarkably functional and easy to use.
Samsung's marketing juggernaut has no shortage of talent or creativity, and it has been providing entertaining video promos of the Note 4 on a near daily basis for that past two months. In that time, Samsung has effectively shown off many of the Note 4's considerable capabilities.
You can thank TouchWiz for all those goodies. While it is still not a perfect execution, as we outlined in
our review of the Galaxy Note 4
, it is more than offset by overall broad feature set, beautiful display, solid performance of the hardware, and excellent camera.
Listening to little Johnny describe of tribulations of his family is thoroughly entertaining, and Reggie Watts lets the sounds rip while we watch the Galaxy Note 4 in action.