Brooklyn Net star Deron Williams uses an Apple iPad to sign $98 million contract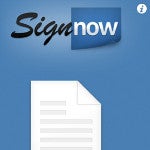 signed a 5-year $98 million contract
. While certainly the numbers are mind blowing, the really cool part of the signing for mobile device fans was the way the contract was executed.
If you look at the photo, you can see that the NBA star
used his finger to affix his John Hancock on the bottom line of the a virtual contract
that was signed on an Apple iPad. Williams is currently in Las Vegas, preparing for the Olympics, where he signed the pact. The app being used is called SignNow which allows users to "sign" documents regardless if they are Word or PDF documents. The app is a free download from the App Store and has just been updated to improve the signature panel. Now users can rest their palm or fingers on the panel while they sign a document, and the accuracy and the responsiveness of signing on the glass has been improved. And by the way, this is not just an app for the Apple iPad. It can also be used on the Apple iPhone as well.
source:
SignNow
via
Gizmodo