Broken iPhones turned into useful artwork
16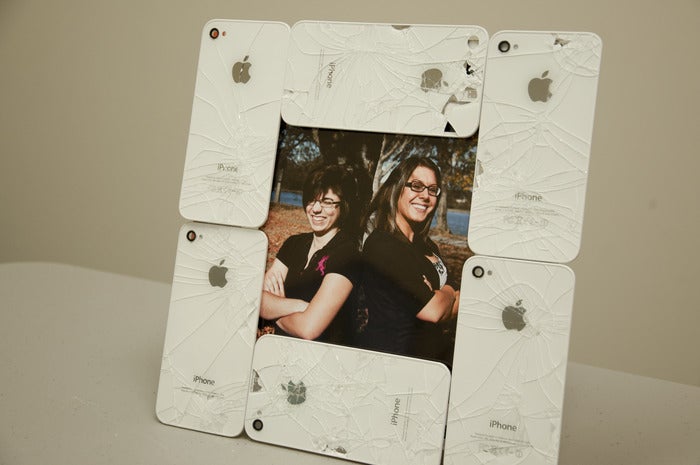 If you are butter-fingered and own an iPhone, there is quite a high possibility that some day you will be left stunned like a deer in the headlights as you witness your beloved Apple device flying towards the floor. If that's the case and your smartphone breaks apart, you will have several options to consider – either fix it, recycle or replace it at a local Apple repair store. No matter which one of the three options you choose, there is a slight chance that some of its broken and otherwise unusable parts will be used to create useful artwork as part of a new Kickstarter project, called 'Twice Used'.
Twice Used is a campaign that brings life to otherwise unusable and broken iPhone fragments and turns them into usable art, jewellery and furniture. Chris Koerner, the person behind Twice Used, and his team got the inspiration for this project while working at an Apple repair store. Being environmentally conscious, they decided to make a difference and utilize some of the iPhone glass screens and home buttons that were simply thrown away as garbage and harmed the environment. Chris and his team now buy unusable iPhone parts from Apple repair stores and refurbish these phone fragments into artsy, completely usable items such as wall clocks, picture frames, bracelets, earrings and even coffee tables.
The iPhone parts Mr. Kroener and his team use come from all over the world, so there is a slight chance that your broken phone might become someone else's wall decoration. The Twice Used team currently have around 20,000 broken iPhone screens, but they will need a lot more, because just the coffee table requires about 100 screens. You can contribute to the project either by buying one of the handmade iPhone-themed items, or simply back Twice Used by donating money at their Kickstarter page. So far, they've accumulated $2,367 and they will need at least $10,000 by December 18 in order to get their project funded.
If you are interested in obtaining an iPhone coffee table or simply want to help Chris and his peeps, visit the source link at the bottom of the article.