Broadway comes to your mobile device when 'She Loves Me' gets live-streamed June 30th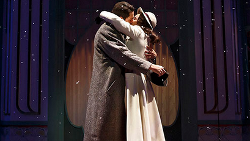 Thanks to one show, Lin Manuel Miranda's
Hamilton
, Broadway musicals are as popular as ever. If you watched the Tony awards last weekend, you probably noticed a show called
She Loves Me
that was up for eight awards. The show, which originally ran in the early 1960's, will become the first Broadway show ever to be live streamed. A company called BroadwayHD, which hopes to make this an ongoing business, will be streaming the show to smartphones, Roku and Apple TV.
What might attract those who normally give a wide berth to the stage, are the actors who star in the production. Zachary Levi has been seen on the silver screen in films like
Alvin and the Chipmunks: The Squeakquel
,
Tangled
, and
Thor: The Dark World
. Jane Krakowski has starred on NBC's
30 Rock
.
While there is evidence that broadcasts of stage productions improve ticket sales, producers worry that those who paid big bucks for tickets to see a show will end up with a bad taste in their mouth when the same show is streamed for only $9.99. BroadwayHD will put up the money to finance the production, which includes paying the stars extra to perform. The company says that it expects to make a profit on the event.
She Loves Me will be live streamed on June 30th during a live performance of the show from its home in Studio 54. Some seats will be kept vacant that night, and those who don't want to have nine television cameras looming over them during the show will be allowed to exchange their tickets for another performance.
If BroadwayHD does turn a profit with She Loves Me, other shows could end up streamed on your smartphone. And yes, that just might include Hamilton.
source:
NYTimes