Boyfriend proposes using Vine
14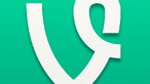 If you're not familiar with the iOS app Vine, think Twitter but with 6 seconds of video instead of 140 characters. The video can be tagged and sent out via Twitter, which is exactly what one Curt Buthman did. The only thing that made his message on Vine so different, was that it carried a
marriage proposal
to his girlfriend Marsha Collier.
Collier received the proposal right in the middle of a Twitter chat about customer service (#custserv), which she had started back in 2009. She said she was trying to run the customer service chat when she saw the proposal and her mind froze. Finally, it thawed out enough for her to fire back her response, which was a big "Yes". We suppose this is just another reason why Android users need to get their version of Vine
which is supposedly on the way
.
Last weekend, we saw
Sony's twist on a buy/girl crush
and today we see a
marriage proposal
via Vine. Next up,
virtual honeymoons
.
source:
HuffingtonPost
via
Gizmodo