New Sony Commercial takes a modern twist on love
31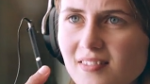 We've seen it all before. Boy sees Girl. Girl likes Boy, Boy likes Girl. Boy shares his song with Girl using the Near Field Communication capabilities on his Sony branded smartphone. Song contains hidden message about long-dated crush Boy has on Girl.
Now it is Girl's turn. Using the NFC capabilities on her Sony phone, she sends him the song that she wants him to hear, which also contains a hidden message about her deep seated feelings toward him. But unlike the slow paced crooner style of his song, her tune is a bone jarring fast paced rock number.
Boy hears song, figures out message and is so thrilled that he runs off. Ahh,
modern love
all made possible by Sony.
Thanks, Anonymous Tipster!
source: Sony