Bought the perfect phone already, or still don't know what to get?
78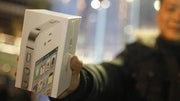 Smartphones – they come and go. You buy a high-end model today, and before you know it, the device is worth half as much as whatever you spent on it, not to mention that it already classifies as a mid-range handset. Then comes the moment when you have to make a choice: either stick to your trusty smartphone and make the most of it, or get a new one that is better.
But which option do most people pick and how often do smartphone owners change their handsets? That is what we are trying to answer today, which is why we need some input from you, guys. In today's poll, we ask you when was the last time you bought a smartphone or a tablet. Was it less than three months ago, or has it been so long that you cannot remember? We would really appreciate it if you cast your vote. Also, are you planning on getting a new smartphone or a tablet soon, and if so, will it be in the near future, or you prefer to wait for newer models to hit the market? Just place your vote below!