You can now ask Google Assistant to book you a ride to your destination
0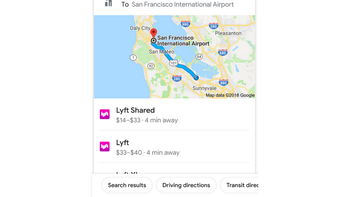 So let's say you're without transportation (car in the shop, for example) and you need a ride-share service to pick you up and take you somewhere. Well, you could install apps from Lyft, Uber and their competitors, and check out the pricing on each app as you go back and forth between them. Or, you can save yourself some time and effort by simple asking
Google Assistant
to "Get me a ride to Starbucks," or "Get me a taxi to Ft. Lauderdale International Airport."
Google Assistant will then send you a list of the different ride-share services in your area along with the estimated cost for each one, and a wait time. Once you select the company you want to use, you'll be sent to the appropriate app to confirm your ride request. If you have a preference, you can simply ask Google Assistant to "book a Lyft/Uber (or the name of your preferred rise-share service) to the Disney Store."
Whether you use companies like Uber or Lyft frequently, or just every now and then, remember that Google Assistant can quickly book you a ride to your destination. And this can be accomplished without installing multiple ride-share apps on your phone. The companies that Google Assistant tracks include Uber, Lyft, Ola, Grab and GO-JEK.