Bolt Browser for Android hands-on
13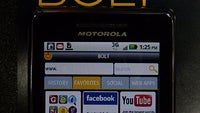 Android's stock browser has all the deep features that will naturally appease any hardcore web surfers out there, but for those who are limited with their data plans, the Android browser might prove to be simply too much to handle – especially for those bigger and extravagant looking sites.
Thankfully enough, the mighty
BOLT browser for Android has recently come out of private beta,
and it's now available to the masses to check out. Highly popular on the BlackBerry front, the neat thing about the BOLT browser is the fact that it compresses data in the backend to reduce the amount of data consumption that would normally drain one's data plan very quickly.
Checking it out in action with a Motorola DROID 2, it's able to properly render our site with
relative ease
, which is nice considering it
doesn't
eat up as much data as the normal Android browser. Additionally, pinch gestures are fairly
smooth
for zooming in/out, but kinetic scrolling has this late momentum feel as it slowly comes to a complete halt. Furthermore, we're able to see it handle YouTube videos as well – though, they normally have a
pixilated look
, but at least it's able to quickly load and play it. Some of the other notable features include is its social networking integration to quickly share things to your favorite services.
All in all, it's indeed a valiant offering, but not everyone might find the BOLT browser sufficient for their needs. Of course, the Android browser itself is suitable enough to get you that full fidelity experience, but if you're really tight in terms of data consumption, then the
BOLT browser
might prove to be a reasonable alternative. Hey, it works fine for basic use from what we checked out.