Blue HTC One spotted in the flesh
20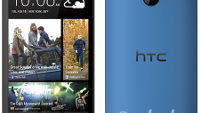 As the shelf life of the HTC Onedrags past maturity, the Taiwanese-based manufacturer seems intent onkeeping things fresh by offering some, admittedly, snazzy-lookingcolors for its flagship device. We've already seen thedevice in what the company calls glamor red make an appearancewith Sprint in the US, but rumors of a second, blueversion, said to be headed for Verizon were propelled by@evleaks.
We've, of course, showedyou said blue version, and some of you probably consider theyhave a good enough idea of what to expect. However, just as the casewith the red HTC One was, the renders we've seen have had the colorcompletely messed up, while the few hands-on imageswe were treated to were taken under some extreme conditions. Newimages of the blue HTC One have resolved this issue somewhat, forthey show the device under more natural conditions, where you canclearly see that what seemed like a bright blue, at first, in realityis a more saturated,much darker blue.
The blue HTC One was initiallyexpected to arrive on August 1, but then got pushed to August 15(which obviously didn't happen, either). Last we heard, Verizon isprepping the boy version of the phone for a launch tomorrow, August29, and we sure hope we have it right this time around.
source: HubFR, GSM Insider