Blu Pure XR is a new affordable flagship phone, and you can try to win one
13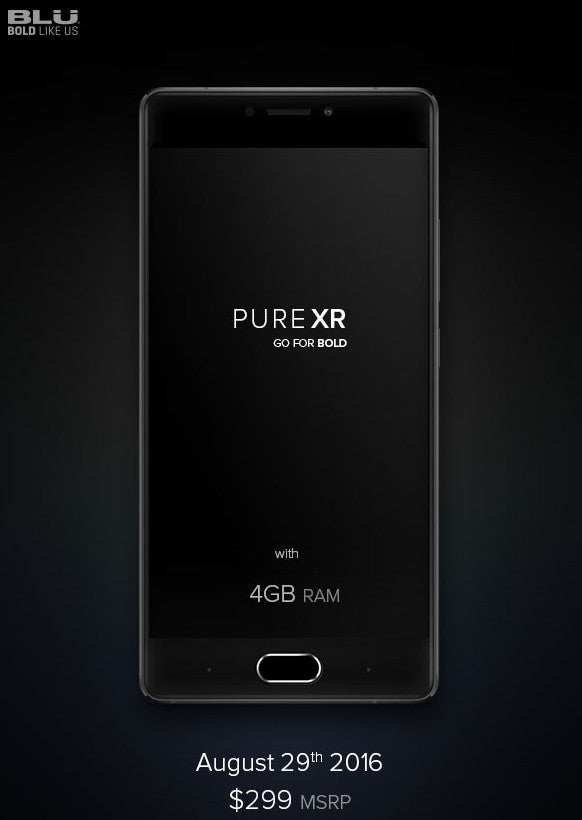 Miami based Blu is getting ready to launch a new Android smartphone called Pure XR.
If you're familiar with Blu's handsets, you probably know that some of them are downright cheap, while others are a bit more expensive, though they offer pretty nice features at prices that usually undercut the competition. The Blu Pure XR, pictured on the left, seems to fall into the latter category.
For now, Blu isn't sharing too many details about the Pure XR. However, we know that the handset comes with 4 GB of RAM, and doesn't look too bad (though its design is rather generic).
The new device features a physical home button that
may
include a fingerprint scanner, and we assume that the rest of its specs will be high-end-ish, since this is presented as "a flagship" smartphone.
Blu is planning to release the Pure XR on August 29 in the US, selling it for $299 (unlocked). Before the new smartphone hits the market, Blu allows fans to win one via a contest open to all US residents who are at least 18 years old. To enter the contest, you have to submit a valid email address (before September 2) at the source link included below. Three randomly selected winners will receive a Blu Pure XR each. Good luck!
sources:
Blu contest
,
Twitter
Recommended Stories