Bloomberg reports that Palm has put itself up for sale
This article contains unofficial information.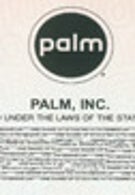 With rumors all over Wall Street during the week about a possible takeover of Palm, Bloomberg is reporting on Monday that the company is putting itself up for sale. Faced with poor sales of the two devices it was counting on to make a miracle comeback, Palm has apparently hired former Superstar Banker Frank Quatrone and Goldman Sachs to explore the sale of the company. Some of the prospective buyers include fellow cell phone manufacturer HTC, based in Taiwan, and Chinese computer maker Lenovo. Elevation Partners owns 30% of the company,an investment that once showed a ten fold profit before roundtripping when the stock went from $4 to $18 and back to $4 before last week's rumor fueled advance..
Palm had seemingly thrown a Hail Mary Touchdown pass early in 2009 when it introduced the Palm Pre and the webOS operating system. Immediately the handset was branded as a strong competitor to the iPhone and the stock took off. At launch, sales failed to hit expectations thanks to a small number of available apps, a strange marketing campaign, a questionable build, and a screen that would now be considered undersized at
3.2
inches. Even when the Pre and the Palm Pixi were made available to Verizon customers as the Pre Plus and Pixi Plus with added memory and other features, sales remained poor. Androidmania had already begun and Big Red was selling tons of its flagship Motorola DROID handset. With a focused ad campaign, plenty of apps to choose from, the DROID became Verizon's first phone worthy of sharing space with the iPhone. While the webOS duo still is expected to be sold through AT&T soon, that move is not seen as one that can save Palm from being sold. As a result of takeover rumors, the stock soared 32% last week after dropping over 60% this year. To highlight the problems Palm faces, the CFO, Doug Jeffries, predicts $150 million in sales for the quarter ending next month. That is half of the $300 million in revenue expected by analysts in a Bloomberg survey.
Palm is currently valued at about $870 million in market value and according to Gartner, is sixth in the North American smartphone market with a 4.3% share compared with leader Research In
Motion
with a 44% slice of the pie, and a 24% stake owned by Apple. While a buyer might not have any use for Palm's hardware, the webOS software has received mostly rave reviews and could be worth something for a company like HTC that depends on operating systems from Google and Microsoft for its many handset models.
Palm Pre Plus Specifications
|
Review
Palm Pixi Plus Specifications
|
Review
source:
Bloomberg