Blackphone secure Android handset demo: private communication redefined
9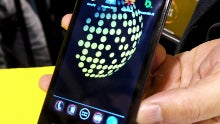 Running a forked version of Android, called PrivatOS, the
Blackphone
might be one of the best surprises at this year's MWC edition. Let's put aside the specs first, as these are not what's interesting here - it's still a capable phone, with a 4.7″ IPS display, 2 GHz quad-core processor, 2 GB of RAM, 16 GB of internal memory, and an 8 MP rear camera.
The whole point of its existence, however, is to ensure your communication with the world through your smartphone stays private and secure, in a day and age where the
NSA goes as far as hooking to underseas cables
, in order to snoop for potential threats. The Blackphone doesn't beam your identity and whereabouts, while at the same time protecting your files and personal communication via a set of apps, designed with privacy in mind.
Silent Circle seems to be the star here, as it offers secure peer-to-peer bridges for voice and video, messaging and files, with an end-to-end encryption. It doesn't log anything, and can't be scooped up during NSA's generic data sweeps, for instance. Check out the demo that the folks from the Blackphone project were kind enough to do for us at the MWC expo.