BlackBerry's "Keep Moving" campaign wants your art to supplement Neil Gaiman stories
3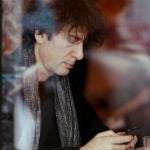 Back when we first heard that BlackBerry had made Alicia Keys into the company's "Global Creative Director", it was also said that the first campaign she was working on was a multimedia campaign called "Keep Moving". The campaign would have a film aspect via Robert Rodriguez, and a literary aspect via Neil Gaiman. Now, we're seeing what Mr. Gaiman's side of things looks like, and BlackBerry wants your art to join his words.
So, Neil Gaiman's side of the project is called A Calendar of Tales, which as the title suggests, is a collection of 12 very short stories, one for each month of the year. Each story is only about 2-3 pages, and each was born from a question that Gaiman asked on his Twitter feed. Now that the stories are written, BlackBerry is reaching out to users for artwork to accompany the stories in digital and limited-edition print versions of the collection.
It seems that the only real connection you'll find to BlackBerry is in the submission page for the artwork. But, even if it doesn't generate much buzz for BB, the project and stories are pretty cool.