BlackBerry's John Chen says deals with Chinese companies are not likely due to security issues
15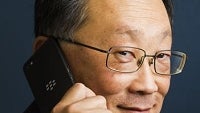 Over the past several months, there has been some speculation about BlackBerry and the possibility of being acquired, most recently by Lenovo.
Those rumors
were washed away
fairly quickly, but they did
not die completely
. Deal or not, BlackBerry would be remiss for not at least exploring the idea of making inroads with the world's largest wireless market. The impediment to such deals is actually BlackBerry's strength, and that is security.
Despite BlackBerry's turbulent past few years, its enterprise services and products are still very popular in western governments, the same governments that would have to give a regulatory green light to any possible deal involving the sale of BlackBerry, regardless of where the buyer is based. Many of those government share a lot of intelligence data too, and the
United States, along with a few allies
have been more than vocal about the Chinese government's role in "private" companies and gathering information on the sly.
Regarding talk of a possible deal, "We probably are unable to do that…I think there will be a lot of regulatory issues and concerns," according to BlackBerry CEO John Chen who happens to be a native of Hong Kong. However, he did meet with Lenovo and Xiaomi over the summer, which fed some of the rumors of a deal.
As it is at this point, BlackBerry is not entertaining any offers for acquisition. The company is doing a bit better than it was a year ago, and conceivably could command a price tag well north of its market capitalization of $5.6 billion.
source:
Bloomberg