BlackBerry roadmap reveals important dates for upcoming Berry models
20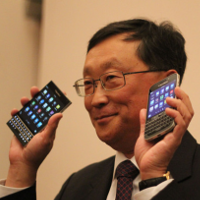 A leaked roadmap for BlackBerry, covers some of the company's most eagerly awaited handsets for the rest of this year. Near the end of the third quarter, say September, the Canadian manufacturer is expected to launch a device codenamed "Khan" which is
the new BlackBerry Porsche Design P '9983
. This will arrive with BlackBerry 10.3 on board. As usual with the Porsche Design series, this model is for those who can afford to spend $2000 on a new smartphone. And you are merely buying the Porsche Design name. You certainly aren't paying for high-end specs.
Also scheduled for a September launch is the Windermere, which we now know as the
BlackBerry Passport
. The flagship model features a boxy design, and a unique QWERTY keyboard that includes both physical keys, and contextually based virtual keys. This model will be powered by BlackBerry 10.3. And at the end of the year, most likely in November, we should see the BlackBerry Classic aka the
BlackBerry 9720
. This will feature a physical QWERTY with an old-school touchpad and function keys.
Each new model is being offered toward a certain niche of the market. For example, the BlackBerry Passport is listed under the
Innovative
niche by BlackBerry. According to the manufacturer, these handsets are for business executives. The BlackBerry Classic, aka BlackBerry 9720, is considered a
Classic
phone. These will be marketed as an upgrade for those used to a physical BlackBerry QWERTY. It also will be marketed as a model used by enterprise customers for a fleet renewal. The Porsche Design P'9983 is considered part of the
Prestige
series of 'Berry handsets. This group is for the rich and famous. Lastly, phones like the
BlackBerry Z3
are in the
Affordable
niche. These are considered upgrades for featurephones and for enterprise fleet renewal.
As for the OTA software updates, BlackBerry 10.3 should be coming sometime in the third quarter, with BlackBerry 10.3.1 arriving in the fourth quarter. Yes, these are exciting times for BlackBerry. The company finally has a proven leader running the company, and things are definitely looking up.
source:
N4BB