BlackBerry makes another terrible music video celebrating BlackBerry 10
10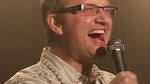 Last September, a few members of then Research in Motion's business development, developer relations team, who also happen to be musicians, combined their talents and
produced a music video
. It was a gesture of appreciation to BlackBerry developers. In that video, the "band" covered REO Speedwagon's "Keep on Loving You" hit from 1980. In a way, that alone could have been interpreted as an omen, but the new BlackBerry 10 hardware is selling and the future does not look so dark for BlackBerry.
Then, the guys decided to get the band back together.
Now that BlackBerry 10 is out and running, piecing together another cover to celebrate the moment would be tolerable. There are certainly a number of songs written in the past ten or twenty years to cover and share the joy, something modern, up to date (like the OS) and upbeat to keep the momentum.
Covered instead was a classic from over 70 years ago, "At Last," written by Mack Gordon and Harry Warren in 1941, and the signature hit of Etta James in 1960. Now, the lyrics themselves are a bit apropos for BlackBerry. BlackBerry users are a loyal lot, many are completely addicted to their "CrackBerry" and with the release of BlackBerry 10, they "can see clearly now the rain has gone" (see what we did there?).
We are going to be honest, the cover for the first minute is manageable. The middle is going to grind on you though and at least the guitarist, BlackBerry's very own Christopher Smith, VP of Application Platform and Tools, belts out a solid solo near the end.
We know you are just dying to watch it. Do it.
source:
BlackBerryDev
(YouTube)