BlackBerry Z10 drop test is out – pavement wins
22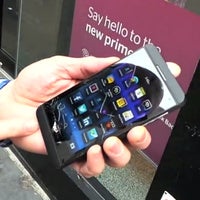 Nearly all modern smartphones are fragile and there's no doubt about it. Changes are that regardless of its make and model, a single drop onto anything harder than hardwood floor will result in permanent damage to one's beloved device. The
BlackBerry Z10
is no exception, as it becomes evident from this recently conducted drop test.
Well, the BlackBerry Z10 actually did pretty good during the first two phases of the test. In fact, drops onto carpet and hardwood floor didn't damage its body at all. That's likely because the handset's exterior is made out of plastic, which is much more flexible than metal, for example, so it absorbs some of the impact's energy. But eventually, the display on the BlackBerry Z10 cracked, which rendered the smartphone pretty useless.
Still, in case you're planning on ever owning the BlackBerry Z10, you can now rest assured that it is about as durable as any other contemporary smartphone. Of course, outfitting it with a case might be a good idea.