BlackBerry Touch makes its debut on YouTube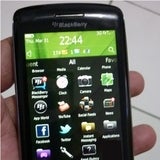 Once again, the BlackBerry Touch has popped up online showing off its features in front of the camera. This time, however, we are not talking about leaked photos like the ones we
reported
about not long ago. RIM's upcoming smartphone has just recently made its YouTube debut in a 2 minute long bootleg video, in which we finally get to see the device up and running.
The video showcases RIM's latest update to its mobile platform –
BlackBerry OS 6.1
. Unfortunately, fellow YouTube user
artxenonart
, who was kind enough to upload the footage, speaks in Thai so we cannot really tell what he is saying while demoing the smartphone. Still, feel free to check out the video of the BlackBerry Touch and do not hesitate to share your thoughts with us in the comments below.
source:
YouTube
via
Elecrticpig