BlackBerry Storm 2 9520 leaves impression on film
This article contains unofficial information.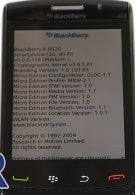 BGR got their hands on some pictures of the BlackBerry Storm 2 9520. This is the version of the Storm sequel that is expected to be for Vodafone and other GSM carriers. We have seen the new Storm on video and so far this handset rocks. With the
much improved SurePress
typing system and the more responsive OS, this is the device that the first Storm should have been. With the addition of Wi-Fi, tabbed browsing and easier text entry, we could begin to hear the phrase "iPhone killer" emerge once again. The only difference is that this time, RIM has learned its lesson, listened to owners of the first-gen model, and has made the appropriate changes that have really made the Storm 2 a phone that appears leaps and bounds above the first Storm. Verizon
expects to launch
their model, the 9550, for business customers on September 29th with an October 14th launch for the rest of us. Pricing is unknown, and while doubtful, those early adapters who bought the original unit on its launch last November, are hoping for some kind of special offer from RIM and Big Red to ease the pain and allow an easy transition to the new model.
RIM BlackBerry Storm 2 9520 Preliminary Specifications
source:
BGR