BlackBerry Q10 will launch to the US in May or June
10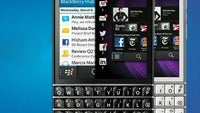 We've said it before and we'll say it again: customers don't like to wait, especially when it's for a new, hot smartphone. Yet sadly, that's what awaits everyone in the U.S. who is eager to get a
BlackBerry Q10
.
In a recent interview with the
Associated Press
, BlackBerry CEO Thorsten Heins said that the handset will land stateside 8 to 10 weeks after the
BlackBerry Z10
launch. And since the latter is scheduled to be available through U.S. carriers in mid-March, we are most likely going to see the BlackBerry Q10 follow suit no earlier than mid-May of 2013. That's well over 3 months from today.
What's holding back the release of BlackBerry Q10 isn't clear. Perhaps it might have something to do with carrier testing or volume manufacturing of the handset itself, but an issue with the app availability isn't out of the question. You see, the BlackBerry Z10, with its full-touch interface and 1280 by 768 pixel display, has been getting a lot more attention from developers and now has
access to over 70,000 BlackBerry 10 apps
. A huge fraction of these are actually Android ports, but it doesn't matter as long as they work as intended. But the BlackBerry Q10, with a 720 by 720 pixel screen of only 3.1 inches and physical QWERTY keyboard, might require all these apps – their interface, in particular, to be adapted to the new display aspect ratio.
Whatever the case is, brace yourself for a long wait if you absolutely must have a BlackBerry Q10 and a real QWERTY. Or just step into the 21st century and try one of them touchscreen keyboards. The
Z10 is reportedly selling well,
you know, so they can't be that bad, right?