BlackBerry PlayBook to get native BBM and BlackBerry 10 next month?
4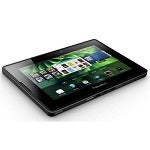 The
BlackBerry PlayBook
, despite its warts, has some neat features to it. Its QNX based, gesture centric user experience is quite fluid and intuitive. From the tablet's launch however there were some justifiable major gripes, such as no native contact or calendar functionality. There was also no native BlackBerry Messenger.
Even after the updates to OS 2 earlier this year, there is still no native support for BBM. For that, you have to use BlackBerry Bridge and use BBM on your PlayBook through your handheld device. BlackBerry Bridge is a pretty nice set-up, and the recent updates have finally brought a measure of parity to other tablets, but we can be honest and say that the PlayBook does not command any meaningful amount of mindshare nowadays, and BlackBerry Bridge required that you own a BlackBerry handset.
With all eyes on RIM and its introduction of BlackBerry 10 on January 30th, there has not been a whole lot of attention paid to the PlayBook. Indeed the questions that are being asked though are valid, will the PlayBook continue? Will the PlayBook get a version of BlackBerry 10? Will the PlayBook ever support BBM by itself?
Well, the answers to those questions may be forthcoming even before RIM's announcement next month. Word has it that the PlayBook will get BlackBerry 10, possibly a couple weeks ahead of the announcement on January 30th. Along with that update, it is expected that the PlayBook will also finally support BlackBerry Messenger.
Knowing that some companies do not always follow what we would consider linear thought, it does make sense to keep the PlayBook up-to-date. Just as Apple, Microsoft and Google are unifying the OS experience, RIM would have to do the same to keep the PlayBook viable. Of course, we expect that the PlayBook would still be able to handle apps written for Android too. We will keep an eye out to learn more, but if it turns out to be correct, there are all sorts of
PlayBooks available at great prices
right now.
source:
BBOta.cn
via
BerryReview