BlackBerry PlayBook sales continue now that eBay is selling the 16GB version for $389
2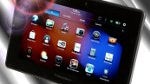 Best Buy's recent $50 off discount
for the 16GB version of the
BlackBerry PlayBook
is nice, but nothing that's necessarily ground breaking – albeit, the $150 off discount for the 64GB model is a lot more eye-catching. Yet, not everyone is looking to pick up the highest end model, but rather, they probably want to keep things at a minimum.
With tablet sales happening everywhere we look,
eBay's offering
is sure to capture the attention of people since they have the 16GB PlayBook selling for a respectable
$389.99
. And to make things even better, they're throwing in
FREE expedited shipping
with the purchase – making that $390 cost your sole priority. Obviously, eBay's offering is indeed much more significant than the one with Best Buy, but we're really waiting for someone to take it to the next level.

On top of it all, there are plenty of exciting
new things expected to happen with the PlayBook
in the coming months – like finally getting Android apps support. So now would be a great time to pick one up if you've been contemplating it.
source:
eBay
via
BerryReview