BlackBerry Pearls 9100/9105 snapped with respective keyboards
This article contains unofficial information.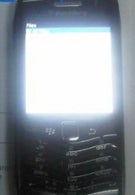 We have
shown you
pictures of what appeares to be a full QWERTY keyboard for the BlackBerry Pearl 9100. We also have
published
a picture of the 9100 with the usual SureType keyboard that Pearl users have become accustomed to using. Now, we have pictures of the Pearl 9105 which looks to be the same exact model right down to the optical trackball-except it sports a T9 keyboard. As we previously
reported
, T-Mobile is expected to be the carrier that launches the Pearl 9100 in the U.S. where it will be the first RIM model to be equipped with 802.11n Wi-Fi. The Nexus One in the middle of the photo looks like it is trying to play peacemaker against two fighting BlackBerry devices. But the big question here is, how does a T9 keyboard strike you Pearl buyers?
RIM BlackBerry Pearl 9100 Preliminary Specifications
source:
BerryReview