BlackBerry London to be called the "Surfboard"?
16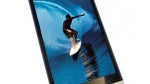 We've been bringing you images of what may be the first BlackBerry phone to ship with their QNX-based operating system, so far known by its code name "
London
". According to a recent report, RIM may be planning on naming the upcoming handset the BlackBerry Surfboard.
The name presumably refers to the phone's shape (touchscreen candybar) and its prowess at surfing the web – at least we assume at this point that it won't make a good platform for riding gnarly waves towards shore.
RIM actually reserved the name "Surfboard" back in the summer of 2010, and renewed the name again last spring, so they've been holding it in their back pocket for quite some time. There will be a lot riding on the first phone that showcases their new operating system – many believe the future of the company rides on it – so does that make it the perfect time to bust out the name BlackBerry Surfboard?
Obviously names can and do change prior to launch, and with the better part of a year before the London is
expected to come to market
, a lot could happen. What do
you
think think about the name BlackBerry Surfboard?
Love it? Hate it? Just "meh"?
source:
BlackBerryOS
via
Tech Crunch