BlackBerry KEYone's keyboard shortcuts get showcased in official video
99+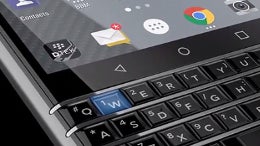 Announced back in February, the
BlackBerry KEYone
is supposed to be hitting shelves starting this month, at least in some regions (while in others, like Europe, it could
arrive in May
).
While waiting for BlackBerry Mobile to
share official details about the release of the KEYone
, you may want to check out a video that showcases one of the smartphone's important features: keyboard shortcuts. Similar to the (now old) BlackBerry Priv, the KEYone lets you assign shortcuts for each of its 26 hardware keys. As you can see in the video embedded below, you can actually assign up to 52 shortcuts, as one key can perform two actions. For example, you could long-press M to open Maps, and short-press it to call your mom.
We'd say that keyboard shortcuts are pretty cool - this is something that you can't do on most other handsets currently on the market, since they do not have hardware keyboards. With that in mind, do you think you'll be interested in purchasing a BlackBerry KEYone?