BlackBerry KEY2 LE price and release date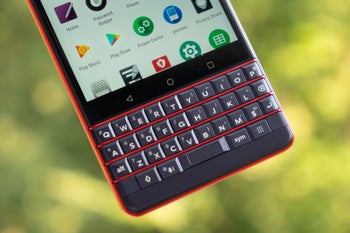 BlackBerry is becoming comfortably playful with its products - as a show-up of confidence, the company revealed a bold and youthful new member of its Key series just a while ago. Building upon the strong foundation established by the
KEY2
, the TCL-owned company just unwrapped its
KEY2 LE
, a phone that aims to bring that seemingly-loved physical keyboard to an even broader audience.
This mid-range device substitutes the KEY2's not-so-bad Snapdragon 600 chipset for a more humble and power-efficient Snapdragon 636 chip, throws in a modest 3,000mAh battery at the trunk, and slightly downsizes the camera package while still retaining a whole slew of neat KEY2 features. For example, the fingerprint is still neatly and inconspicuously embedded in the space key of the keyboard, whereas the right frame of the phone has that super-useful Convenience key. As we mentioned in our hands-on, by default this one has a lot to deal with the Google Assisstant and Google Lens, but we are riveting at the fact that BlackBerry allows remapping.
Overall, this more "youthful" BlackBerry aimed at yuppies young at heart could potentially become a hit, provided that the pricing is adequate.

This brings us to the rather important topic of pricing, release date and the availability of the KEY2 LE. Well, BlackBerry definitely wanted to have a more affordable device in its KEY lineup, and the KEY2 LE is just that - in the US, the device will launch at
$399
for the 32GB storage version and $449 for the 64GB version. In other words, it would costs $200 less on than the KEY2 on the US market while still retaining a large chunk of its best features.
"The BlackBerry KEY2 LE brings a fresh new personality to TCL Communication's BlackBerry KEY2 portfolio that includes all the security features that make BlackBerry phones the world's most secure Android™ smartphones, said Alex Thurber, Senior Vice President and General Manager of Mobility Solutions at BlackBerry. With this new addition to their product lineup, the KEY2 LE keeps the iconic BlackBerry styling while offering an accessible entry point for our fans around the world to enjoy a modern BlackBerry smartphone."
In terms of availability, we werе very happy to hear that BlackBerry has stepped up its logistics game and will be making the KEY2 LE available in all most core BlackBerry markets by the end of September, the USA included. When asked if it will bring the phone on any US carriers, the company declined to comment but heavily hinted that it might have some news for us very soon...
So far, so good, but we have a tough time believing BlackBerry can do that well against the super-aggressive competition coming from China, which is seemingly always ready to bring another stellar value-for-money offering from around the corner.

Here's to hoping that BlackBerry will be able to thrive on this dog-eat-dog market.