BlackBerry Classic shows up on video, brings back the metal frame and keyboard shortcuts
12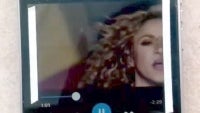 Just a day before the BlackBery Passport launches, a thorough hands-on video of the company's next product, the BlackBerry Classic, showed up online. The 8-minute video compares the phone to older QWERTY phones and the all-touch BB Z30. It's hardly surprising that the Classic is pretty much a Bold with a contemporary build quality and BB 10 as its operating system. Speaking of build quality, the Classic looks respectable with its polished metal frame and big volume and power buttons.
While the screen bezel is hardly the thinnest out there, there is zero space wasted on the sides of its QWERTY keyboard. The phone can be controlled with both the keyboard, which features the classic BlackBerry "tool belt" - the row of Call, BB Menu, trackpad, Back, and End buttons - and the touch-screen interface. It seems users will be able to set custom keyboard shortcuts once again, because BlackBerry promised to bring them back in BB OS 10.3.1 - which is what the Classic and upcoming Passport run.
The BlackBerry Classic looks like an excellent upgrade for any Bold user. According to the video maker, the phone measures 5.11 x 2.83 x 0.35in (130 x 72 x 9mm), making if the thinnest one in the series. It has a 3.5-inch LCD display with the resolution of 720 x 720, which amounts to a decent pixel density of 291PPI. According to a previous benchmark, the Classic has a 1.5GHz Snapdragon S4 processor with 2GB of RAM, and is powered by a 2515mAh battery.
The smartphone is expected sometime in December, at a price yet unknown.