BlackBerry CEO "truly believes" company's smartphone business will be profitable again
57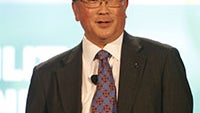 BlackBerry's found itself in some tough financial shape lately, and just about a month ago
shared word of its recent quarterly loss
. In spite of such setbacks, company CEO John Chen remains nothing short of optimistic for BlackBerry's future, especially when that comes to remaining in the smartphone hardware business.
Those Q4 fiscal 2016 losses were punctuated by some less-than-stellar (to put it mildly) sales of the
Android-running BlackBerry Priv
, the manufacturer's big flagship from last year: BlackBerry moved only 600,000 units during the quarter. At the time, Chen expressed his desire to keep BlackBerry in the phone-making business, but resigned himself to the fact that if his company couldn't find a way to profit on phones soon, it might have to shift its focus to software and service.
Now in a new CNBC interview, Chen sounds a bit more positive about BlackBerry's hardware outlook.
While repeating his earlier statement about a return to hardware profitability being key, Chen says that he's now "very close" to getting the company there, and that he "truly believes" that BlackBerry will remain in the business of making smartphones.
Chen once again
confirms plans to release two new BlackBerry phones later this year
, but it's clear that his ambitions reach even further. Beyond those, he tells CNBC's Brian Sullivan that there's "absolutely" a hardware plan that looks past even that pair of devices. But for details on whatever those future phones will bring, we'll just have to keep waiting.
source:
CNBC
via
MobileSyrup