BlackBerry Bold Touch 9930 stars in 24 second video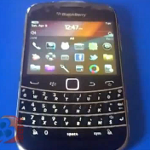 After the BlackBerry Bold 9000 was initially launched with one of the finest QWERTY keyboards to ever grace a smartphone, there were many who said that it would be fantastic to have that physical keyboard on the device combined with a touchscreen. And that is what the BlackBerry Bold Touch 9900 (Dakota) and 9930 (Montana) are all about. The former is the GSM variant of the phone while the latter is the CDMA version that appears in the video.
We can also tell from the video that as expected, the Bold Touch will be running BlackBerry OS 6.1. We recently
reported
on a leaked spec sheet that gave away some of the details of the Dakota which, as we said, is the GSM version of the BlackBerry Bold Touch. And from those specs we can compute that the display on the Bold Touch will offer a slightly larger (.2 inches) display when compared to the original non-touchscreen BlackBerry Bold 9000. Perhaps the biggest improvement is with the processor which nearly doubles from 624MHz to 1.2GHz, nearly twice the speed of the original Bold which was the fastest 'Berry at the time of its release.
Thanks, Philip!
source:
BBLeaks