BlackBerry 9670 & BlackBerry Atlas pose for the camera
This article contains unofficial information.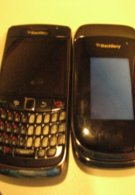 As much as we'd gather that consumers are looking to the soon to be released BlackBerry Bold 9650 and Pearl 3G, there is probably more attention being focused on some other handsets on the horizon – especially with talk of
OS 6.0
arriving this summer. The world was introduced not too long ago to the
flip-style BlackBerry 9670
that offered us a sneak peek to what we can all expect with OS 6.0. Now this time around there are additional leaked shots of the handset being sized up against the BlackBerry 8980 Atlas. Now the interesting rumor regarding the 9670 is that Verizon went to RIM and asked them to build the exclusive device for them. So now it seems as though customers will have to look at Verizon once again to experience one of the next big things to be offered by RIM. Finally, we've seen the Atlas moniker being attached to the BlackBerry 8910 in the past, but now it's apparent that it'll be sticking with the 8980 for good.
BlackBerry 9670 Preliminary Specifications
source:
CrackBerry