BlackBerry 9570 spotted; is it a Storm "Refresh" or the Storm 3?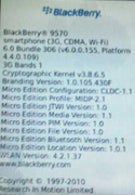 The other day we
showed you
a picture believed to be the BlackBerry Storm 3. What we have below is a shot of the BlackBerry 9570 which could be either a Refresh of the Storm 2 or another shot of the Storm 3. How will we know if the BlackBerry 9570 is the Storm 2.5 or 3? Check out the specs, of course!
The 9570 has basically the same specs as the Storm 2 with an upgraded 5MP camera, 512MB of RAM and with the new BlackBerry 6 OS under the hood (bringing the new WebKit browser along with it). The SurePress technology is back again. Still, there is no talk of a 1GHz processor, a Mobile Wi-Fi Hot Spot and the LTE connectivity that the Storm 3 is expected to feature.
So looking at the situation as it appears to stand, the 9570 looks to be a BlackBerry Storm 2 Refresh-call it the Storm 2.5, and the super hot specs of the Storm 3 might be something we don't see until next year.
RIM BlackBerry Storm 3 9570 Preliminary Specifications
source:
BlackBerryOS