BlackBerry 10 full touchscreen device insides exposed
34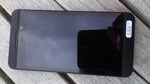 In an early teardown, we get to see the insides of the device
we have seen only a couple fuzzy pictures of recently
. These new pictures are sourced from BisVN.vn out of Vietnam.
In addition to the teardown, details about the specifications and release of the anticipated BlackBerry 10 devices were communicated, much of which we already know about to one degree or another. It has been accepted that RIM would release a full touchscreen version and a QWERTY keyboard version at the same time, or within a narrow timeframe. This source is stating that the QWERTY edition will be released about one month after the touchscreen version.
Underneath, a dual-core processor runs things and on top, a clear IPS display. The device will be available in black or white. The front camera and video chat feature is said to support team view. The rear facing main camera has auto-focus and can take pictures at a rate of one per second. The camera interface allows you to choose up to 10 facial expressions of any person then you choose the best one for your final picture.
With all these in-hand photos of the touchscreen device, it makes us want to see its full keyboard cousin. Take a look at the pictures and tell us what you think.
Sources:
BisVN.vn
via
CrackBerry.com