Black SMS for iPhone encrypts your texts with a password, keeps prying eyes at bay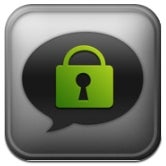 Texting – it is one of the most prevalent ways for people to communicate nowadays. Seriously, just look at those
teenagers shooting text messages
like there is no tomorrow. But hey, have you ever wished for a way to make sure that prying eyes would never know what you text about?
Well, your wish has been granted. Introducing Black SMS for the iPhone – the app that encrypts your outgoing text messages and protects them with a password. In a nutshell, you use it by typing your text message in the app's window after inputting the password you want to attach to it. Once you tap the send button, the phone's SMS application pops up, and all that remains for you to do is to paste the encrypted message.
Now, the obvious disadvantage of this method is that both the sender and the receiver need to have Black SMS installed on their iPhones. On the other hand, $0.99 per user is a small price to pay for the peace of mind that you get in return.