Bing brings "Lasso" to iPad, circle words to search
0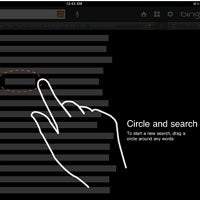 Bing released its official iPad app just three months ago to very positive reviews, but it hasn't stopped working on the search engine for tablets application. In version 1.1 it brings a major update that aims to redefine the way you search the web on a tablet. The Bing team has counted that it takes 9 separate actions to actually perform a search on the iPad, a lot for what's supposed to be a routine task. The solution? The Bing team has come up with a neat little addition called
Lasso
, which allows you to
circle words to automatically get search
results. You only have to start the highlighting mode and then circle text, which then automatically starts a search in a total of
only two taps
.
"What you're seeing today is only the beginning. Lasso moves Bing beyond the search box. Although it will only be available in Bing for iPad to begin with, we're already thinking about how to take Lasso even further – so stay tuned,"
on the Bing Community blogged.
Along with that, Bing 1.1 also
improves movie searches
by showing multiple showtime days and theaters. The update also allows you to swipe to view the last six Bing home images and other minor improvements. Some of those changes are expected to land on Windows Phone Mango devices. To get a feel of how it all works, feel free to check out the quick demonstration video below.